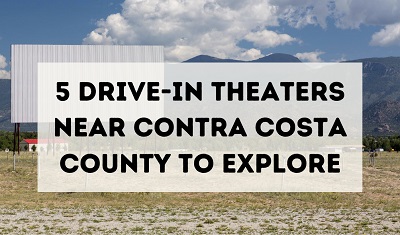 The lively community of Contra Costa County is always bustling with activities for residents to enjoy, which is why it such a popular destination for young professionals and families looking to rent. Even through the pandemic and recent heat-waves, the recent entertainment options popping up in Walnut Creek, Concord, Clayton, and all over Contra Costa County are not only creative and family-friendly, but safe and accommodative. Drive-in theatres have been the latest craze and – lucky for you – there are 5 different theaters for you and the family to enjoy this weekend in and around Contra Costa County. Here are 5 drive-in theatres to check-out this weekend:
West Wind Drive-In Theaters
While the other theaters on this list have popped up in light of the pandemic this summer, West Wind Drive-in Theaters have been operating for years. With locations in Concord, San Jose, and Sacramento, there are tons of show-times and movies to choose from wherever you are. Children under 4 are always free and tickets for children between the ages of 5-11 are $1.75, making this one of the best kid-friendly options. General admission is $8.00, with a discounted rate of $5.00 on Tuesdays for Family Fun Night. Check out more information here: https://www.westwinddi.com
Drive-In Movie at the Alameda County Fairgrounds
Alameda County invites you to watch classics from your car with a line-up that includes Men in Black, Madagascar, Wayne's World, Indiana Jones, and more! Held at the fairgrounds, the movie screenings cost $35 per car if paid in advance, and $40 per car if purchased on-site. Movie-goers also have the opportunity to explore the meal, drink, and snack options at the Grab-n-Stay Food Trucks also parked on the grounds. Masks must be worn the entire time while outside of the car. Check out more information here: https://alamedacountyfair.com/movie-drive-ins/
Fremont's Car Cinema
The city of Fremont recently started hosting "Car Cinema" nights as a way to offer bay area residents a safe entertainment option amid the pandemic. Held at the Central Park softball field, the drive-in movie nights are held each Friday. Tickets are $35 per car but a $70 package can also be purchased, which includes admission into the movie, a 16-inch pizza, a family Ceaser salad, four candies, four bottles of water, and a bucket of popcorn. $5 from each ticket will go towards a community services scholarship, and the nights are scheduled to happen through September 11th. More information can be found here: https://city-of-fremont.square.site
Sunset Cinema Drive-In
Long-time residents of the bay area might remember the annual concert series held at the Montalvo Arts Centers. This year, they've replaced the series with drive-in movie screenings on the Villa Montalvo grounds. Upcoming showings include Oscar-winning films such as Black Klansman, Groundhog Day, and Jurassic Park. Tickets are $25.00 per car, and guests may bring their own snacks and beverages! More information can be found here: http://montalvoarts.org/programs/sunset_cinema/
Santa Cruz Boardwalk Drive-In Movies
The Santa Cruz Boardwalk is screening movies every Friday and Saturday through September 26th at the River Parking Lot. Jumanji, Guardians of the Galaxy, Aladdin, and The Goonies are just some of the classics being played in the upcoming weeks. Tickets are $25 per vehicle. With a limit of 120 cars, tickets sell fast. Pre-packed food and beverages are available for purchase, and open hatchbacks and bed trucks are allowed as long as guests remain inside the vehicle or back of the truck. More information can be found here: https://beachboardwalk.com/Drive-In-Movies
Contra Costa County is surrounded by so many entertainment options, it's hard to pick just one! If you are ready to find your perfect home in this dynamic community – or ready to make someone's dreams of living here come true by renting your property – our team of highly experience professionals are here to help. Contact us today to discuss any of your real estate needs.